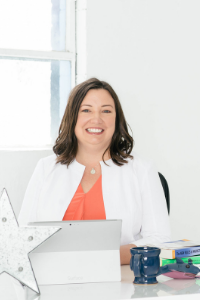 Jacqueline Destremps – Co-Founder, 100+ Women Who Care Valley of the Sun
Steering Team and Co-Chair of 2019 Leadership Conference, 100 Who Care Alliance
Jacqueline first learned about the 100 Who Care concept in 2014 from a fellow Superbowl Host Committee volunteer, Kim Tarnopolski. After hearing about the concept she jumped at the chance to be part of the four woman executive team Kim was putting together. They had big ambitions, launching two 100+ Women Who Care groups at the same time under one Giving Circle, and needed a website and social media presence, both a part of Jacqueline's expertise. They launched in early 2015 and quickly grew to over 200 members and today have three sister groups serving Phoenix and it's surrounding cities.
Jacqueline has over seventeen years experience in marketing and web design for both nonprofits and for-profit companies. In addition to helping to create 100+ Women Who Care Valley of the Sun in 2014 she also launched her own business, Another Hand Advantage, LLC, specializing in creating marketing strategy for community minded businesses and nonprofits.  In 2017 she launched a live radio show and podcast, 3C Amplified, to further her mission of highlighting the individuals, businesses and nonprofits creating an impact in their communities.  In 2020 she began her executive board service on the Tempe Community Council.
She was invited to speak at both the 2015 and 2017 100 Who Care Alliance Conferences in Chicago to share her experience with marketing and social media and served as the co-chair for the 2019 Leadership Conference that took place in Scottsdale, AZ.
Traci Richards – Co-Founder, 100 Women Who Care Northern Virginia
Co-Founder and President, 100 Who Care Alliance
Traci started the 100 Women Who Care Northern Virginia chapter in May of 2012 after reading about the success of the Cleveland chapter, as written by a fellow former hometown Ravenna, Ohio resident, Cleveland Plain Dealer columnist and author Regina Brett in her book Be the Miracle. She researched the Northern Virginia area and while she found other women's giving circles, she found nothing similar to the 100 Women Who Care concept.  She told two friends and in May of 2012 they held their first meeting with a mere 17 present.
Traci has more than twenty years experience in the management and operation of companies doing business in the health care delivery system.  She has senior leadership and consulting experience with privately held healthcare organizations, national non-profits and physician groups, where she shares her expertise in strategic planning, business development, board management and provides technological and marketing solutions.
She is managing partner of HealthCue, LLC, the founder of iCanFind Everything Breast Cancer, a mobile management solution for breast cancer patients and has been known to edit a book or two for friends.  She is a graduate of The Ohio State University with a major in Organizational Development and a minor in Economics.  Her hobbies include reading, photography, travel, and golf.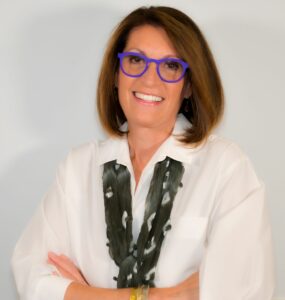 Laurie Richter – Founder, 100 Women Who Care North Suburban Chicago
Co-Founder and Vice President, 100 Who Care Alliance
Laurie started 100 Women Who Care North Suburban Chicago in May 2013 after meeting a woman at a spouse's breakfast at a conference she was attending with her husband in Phoenix.  The woman's organization had been the recipient of an award that kept them from going bankrupt, and the premise of the group was so intriguing to Laurie that she came home, conducted research, grabbed a few girlfriends and started the chapter.  She is particularly proud that the husband of one of her members liked the idea so much that he put together a group of husbands to upstage the women by donating $110 at each meeting of his newly created group, 100 Men Who Care 10% More.
Laurie has more than thirty years experience working in the market research field, having started with Quaker Oats in the early 80's' and later running her own market research consultancy.  She has self-published two books, Put Me In Coach: A Parent's Guide to Winning the Game of College Recruiting and The Recruiting Companion for College Sports.  She has spoken at high schools and sports clubs, sharing her research and knowledge on the topic of recruitment.
Laurie received her undergraduate degree from University of Maryland at College Park, and graduate degree from University of Texas at Austin.  Laurie is married and has two boys, ages 25 and 28.  Now, with a little more time on her hands, she will travel almost anywhere at the drop of a hat.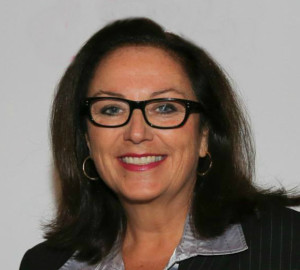 Colette Robicheau – Founder, 100 Women Who Care Halifax, Nova Scotia, Canada
Steering Team, 100 Who Care Alliance
In November 2012 Colette fell in love with the simplicity of the 100 Women Who Care model when her co-founder asked if she would be interested in starting a chapter. She had heard about it from a friend who was a member at one of only three existing chapters in Canada at the time. Together they discussed how busy they already were and all the reasons not to do it…and then they jumped right into planning. Colette often says her head was saying no but her heart was saying just do it. Their first meeting was in March 2013 and since then, Colette has assisted many other chapters launch throughout Canada.
With a background in public relations, marketing and event planning, Colette has had a variety of experience with careers in Hotel, a Modeling Agency, Radio, TV and a local Winery. She left the corporate world in 1999 to start her own business as a project management and marketing consultant. She trained as a life coach and the "Get Organized" package she had in her original company grew and morphed into the opening of a whole new company, Organize Anything. Her company provides productivity coaching, training, residential organizing, home staging and redesign.
Colette is passionate about seeing her clients and community create meaningful lives through giving back. When Colette is not working or volunteering she is busy with her own passion – travel.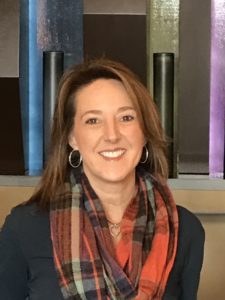 Emily Schneller – Founder, 100 Women Who Care Middle Tennessee
Steering Team and Chair of 2021 Leadership Conference, 100 Who Care Alliance
Emily started the Middle Tennessee/Nashville chapter are learning about the 100+ Women Who Care from a business mentor in South Florida, Melody Spano.  The basic principles of keeping it simple and efficient while allowing women to collaborate to make a huge impact on local nonprofits made it easy to get a few ladies involved to help get things rolling.  Since the first meeting in August of 2013, their chapter has grown from 23 women to over 100.
While working to grow her chapter, Emily went back to get her Masters of Arts in Civic Leadership at Lipscomb University where she used 100 Women Who Care's unique giving model as the core for her master's thesis.  This allowed her to research other chapters, collect and share information, and the blessing of interviewing the original founder, Karen Dunigan. Seeing the vision and giving hearts of so many women and men that have become the Alliance is inspiring every day!
Emily is the chair of the 2021 Leadership Conference, to be held in Nashville, TN.
In other news, Emily is a retail real estate broker for Katz & Associates, a live music and travel enthusiast, and proud mom to her boys, Alex and Austin!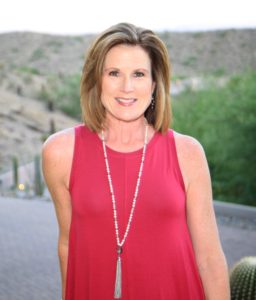 Kim Tarnopolski – Co-Founder, 100+ Women Who Care Valley of the Sun
Steering Team and Co-Chair of 2019 Leadership Conference, 100 Who Care Alliance
Kim is the Chief Community Builder and co-founder of 100+ Women Who Care Valley of the Sun. Kim and her team launched their chapter in 2015 with a goal of donating $500,000 in five years to local nonprofits. The chapter crushed that goal and is moving towards donating $1 Million. Today, the chapter has three groups (Ahwatukee, Scottsdale, and East Valley) that meet around the Phoenix metro area on a quarterly basis. Kim learned of the 100 Who Care concept from a friend who belonged to another chapter in the Phoenix area. The concept was a perfect match for Kim's background and community interests.
Kim started her career in corporate America before moving into entrepreneurship to run her own business – a human resources consulting firm. The two decades of business experience gave her the opportunity to hone her skills in communication, performance and business management, facilitation, coaching, conflict management and event planning.
Kim has also been actively involved in nonprofits and has sat on various boards. She is currently a member of the ASU Women & Philanthropy group.
Kim is a community steward who has made a Valley-wide impact to better the lives and opportunities for others. She is selfless in giving to the causes she believes in and she'll take a stand for those who cannot. She donates with her energy, her talent, her dollars and her time.
Personally, she's a wife and a mother of an amazing daughter and two furry kids. She loves running trails, photography and travel. She's a strong believer in the power of community.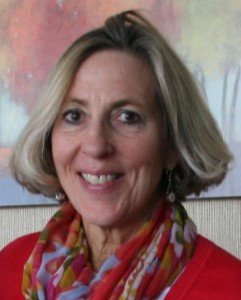 Sally Wiarda – Founder, 100 Women Who Care DuPage County
Co-Founder and Secretary/Treasurer, 100 Who Care Alliance
Sally started the 100 Women Who Care, DuPage County, IL in February 2007, after hearing about the meeting run by Karen Dunigan while she was in Jackson, MI visiting family at Christmas in 2006. Her sister-in-law runs a non-profit in Jackson and some immediate needs they had were Karen's inspiration for the concept of this collective giving model she launched in the fall of 2006. Fast forward…the DuPage chapter just wrapped up their eighth year.
Sally graduated from the University of Iowa with a B.S. from the dental hygiene program. After a stint in Minneapolis in private practice, she and her husband moved back to the Chicago area (home), raised three sons, and she joined the education world. She first worked in a county wide audio-visual resource facility, then found her passion working with elementary school children teaching part time the past 15 years. Her hobbies are reading, gardening, running/working out and most recently completed the University of Illinois-Extension Master Gardening program, a bucket list cross- off!
She was awarded the Good Citizen Award in her home town of Wheaton, IL due to her work with 100 (+) Women Who Care.